The PAAC Haiyan Scholarship Grant 2014
As part of its outreach program to help the survivors of typhoon Haiyan, the PAAC offered three needs-based scholarship grants to Haiyan survivors in Ormoc City, Philippines. These grants were awarded based on the recommendations of Sister Edita Eslopor, OSB of Ormoc City. Sr. Edita has been very active in Ormoc in helping survivors recover from the historic typhoon. The PAAC has had a long relationship with Sr. Edita in reaching out to the needy in Ormoc City. She has recently been featured for her efforts to champion the struggles of Haiyan victims by bringing their plight to the attention of President Aquino and Cardinal Luis Tagle. The following report was submitted by Sr. Edita to the PAAC to feature the three beneficiaries of the PAAC Haiyan scholarship grant.
---
The Three Haiyan Survivors - PAAC Outreach Beneficiaries
by Sr Edita Eslopor, OSB


Of the many victims of super typhoon Haiyan, meet the lucky three who were recommended by Sr. Edita Eslopor, OSB and gained the approval of the PAAC to avail of the scholarship offered to survivors in Ormoc City. Indeed theirs is a story of struggle and survival and with God on their side who would not endure.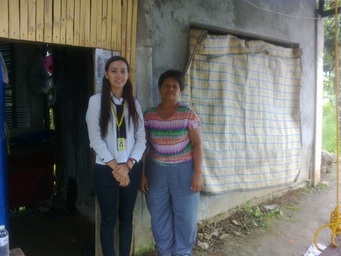 Jerame Campos is the oldest of the three scholars. She is the third daughter of Mrs. Ma. Teresa Campos, a widow. She is currently living with her mother and brother at one of the barangays in Kananga Municipality. Her father died last August 2007 and her mother raised her and her siblings through her mother's small business which is direct selling. She has 4 siblings namely: Geraldine, Jennefer, Rocela and Romil Jay. She is now a second year student in STI College Ormoc and currently taking Bachelor of Science in Hotel and Restaurant Management.
---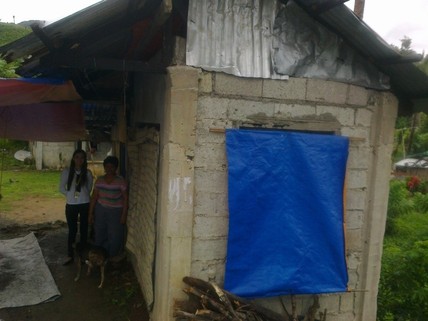 There are two persons she idolized in her life - her parents. Her father (deceased) who made so many sacrifices to support the entire family, and her mother who is very supportive with her goals and ambitions in life. Since her father left them so early, she wanted to return the favor and serve her mother with her whole life.

In God's perfect time, she will graduate and become a successful hotelier; she wants to help her family and everyone who is in need. Since she was a kid, that's what she really wanted to do and that is her dream.


---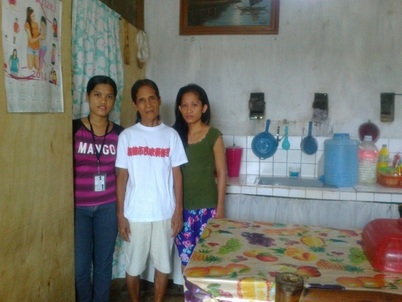 The second scholar is Mariel Gitanes who is 21 years old. She is the youngest daughter of Mr. Senan Gitanes and Mrs. Rebecca Gitanes. She has three sisters and three brothers. Her sisters are Marita, Marites and Margie and her brothers are Glenn, Gerry and Arnulfo. She lives with her parents at Panali-an Ipil Ormoc City. As of now, Mariel is a first year student at St. Peter's College of Ormoc taking up a Bachelor's Degree in Elementary Education.

She shared her dream: "My aspiration in life is to finish my studies then to have a permanent job so that I can help my family and the other people in need."


---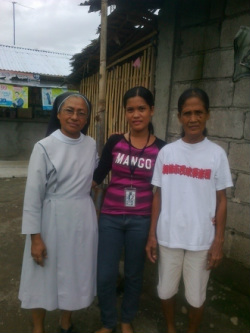 Mariel's father is a carpenter and her mother is a plain housewife. He repaired their house which was also damaged by typhoon Yolanda. In front of their house is a small garden planted with vegetables. Her family is fond of planting vegetables at their backyard, the reason why Mariel is healthy
---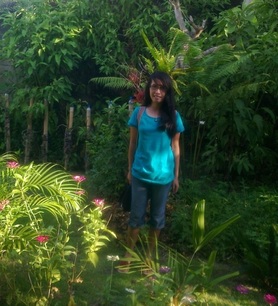 Jocelyn Nazario is the third and the youngest of the three scholars. Jocelyn is a sweet and cool girl. She loves to wear her hip-hop cap. She wears it almost every day! She is the daughter of Mr. Esteban Nazario and Pacita Nazario. Her mother died when she was young and her father re-married after a few years. She lives with her father and her stepmother now at Barangay Milagro, Ormoc City. She has five siblings: Elmer, Jennifer, Cherry, Jocelyn, Jonardo and two stepbrothers Roldan and Roel. Just like Mariel, Jocelyn is currently a first year student at St. Peter's College of Ormoc taking up a Bachelor's degree in Elementary Education.
---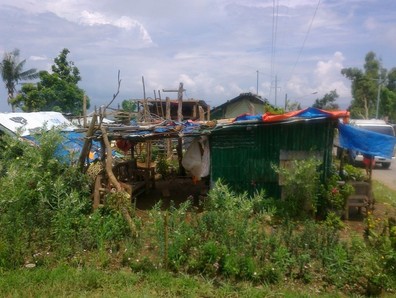 Above is Jocelyn Nazario in front of the St. Benedict Socio -Pastoral Center managed by Sr. Edita Eslopor, OSB.


The picture on the leftis Jocelyn's house at Barangay Milagro Ormoc City which was destroyed by typhoon Yolanda. They improvised a small "barong barong" if only to shelter them from the sun and the rain.



---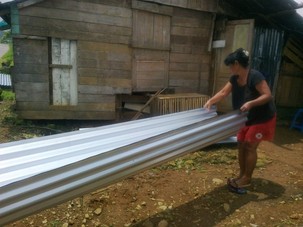 This is Alona, Jocelyn's stepmother, carrying the corrugated GI sheet donated by the Missionary Benedictine Sisters at St. Peter's College.
When asked what her dream is, Jocelyn smiled. "My goals and ambitions in life are to finish my study and to be a teacher someday so that I can help my family and other people that surround me".
---
The three scholars said that they are lucky and happy. They are grateful to God and to their benefactors, the people behind PAAC. You have given them the chance to achieve and reach their goals and dreams in life. They may have different personalities and come from different poor families but the experience of a disaster that wrought havoc to their houses and environment made them resilient and hopeful. Typhoon Yolanda may have brought destruction but at the same time it brought new beginnings and new opportunities for a better tomorrow.

Again they thank all of you, their benefactors and Sister Edita, who shared their blessings with them and believed in them without doubt that they can reach their dreams. Words are not enough to express how they appreciated your generosity and grateful to God of all graces.

Thank you and God bless you all!