PAAC President Deb Magno's Message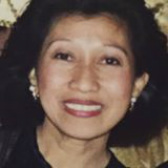 "I don't feel that the conductor has the real power. The orchestra has the power and every member of it knows instantaneously if your're just beating time."

- Itzhak Perlman
I am deeply honored and privileged to serve as President of PAAC for the years 2016-2017.
PAAC has been a bastion of excellence during all of its 50 years of existence. It remains active and dedicated to the pursuit of its aspirations and ideals for the benefit of its members and the community at large.
In his quote above, Itzhak Perlman, a world renowned violinist, conductor and pedagogue, best describes PAAC. PAAC is an orchestra whereby the President is merely the conductor and the membership are the musicians. The President can only derive the strength to lead from the membership who has the real power to move the association towards the fulfillment of its goals and objectives. My confidence as your leader will depend most importantly on the support you are able to provide during our journey. Surely, with cooperation and harmony, we can make beautiful music together.
My foremost goal is to keep the membership strong and active and to keep it growing. I would like to invite each and everyone to be a member and get involved in PAAC. The association can very well benefit from the talent, expertise and support that you can give.
My profound congratulations to the members and outgoing officers led by Joseph Battad, whose dynamic leadership has steered the association to greater heights and glory.
---