PAAC President Cecile Rogayan's 48th Anniversary Message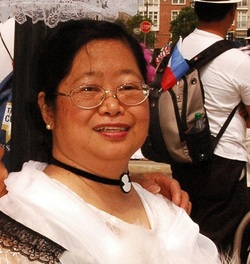 Tonight, the Philippine-American Association of Connecticut, Inc. (PAAC) celebrates its 48th founding anniversary. As I look back at the stories of the early beginnings of the association, our identity as a Filipino stands out and serves as the guiding light in everything PAAC has done and will continue to do.

Ingrained in all our activities is our love and fear of God, love of family, the importance of education, the spirit of volunteerism (bayanihan) and community service, and our innate love of our motherland. These we are trying to pass to our next generation here in our adopted country.

To all PAAC officers and members:

Thank you for your unwavering support and dedication to the aims and ideals of PAAC. The year 2012 went by in a flash; some projects were carefully planned, others just happened to come by. Yet we were able to accomplish what we aimed for because we cooperated and worked hard. Your commitment and support made everything doable. I will always cherish that and know that there is a year left on my term as president of the association. We have more projects on my to-do list and I hope you will continue to be patient with me constantly soliciting your support.

To all our benefactors and friends:

Thank you for your financial contribution and also for your moral support. It is greatly appreciated. PAAC can plan, prepare and work hard on any endeavor but we need financial support. For instance, your attendance to our dinner dance tonight helps us raise the much needed funds to support our projects. Last Christmas season, the PAAC Choir received donations from our caroling hosts and their friends to support our scholarship program. I would like to emphasize that donations to the PAAC, a tax-exempt non-profit organization in accordance with Section 501(c)(3) of the IRS Code, is tax deductible. The PAAC is staffed by volunteers, it does not incur any administrative cost, hence, 100% of donations go to beneficiaries.

To other Filipino American organizations:

Co-sponsoring events shows we can work together towards a common goal and keep our own association's identity intact. Let us not be competitors but friendly participants working hand-in-hand for the common good of our community. I look forward to more collaboration among Fil-Am organizations here Connecticut.

In closing, I would like to wish everyone a happy New Year! May we all be filled with the blessings of hope, love, good fortune and good health!


---